Last Sunday afaternoon Dan said, "Let's go down and see your Mom for Mother's Day." It sounded like a great idea to me, so we started making plans to do just that. But by Wednesday it was clear that Dan had come down with a doozy of a cold. We still held out hope that he could go to Carlsbad on Saturday, but he got progressively worse. By Saturday he had lost his voice entirely and was not feeling up to the trip. So I packed my bag and headed Mom's direction myself.
I got there Saturday afternoon - it's about a 5-hour trip down - and took her to her favorite Mexican restaurant, in Artesia, for dinner that night. It was great food, and we had a good time together. When we got home we stayed up until midnight talking. I went with her to Bible class and worship this morning, then hit the road again to return home.
It was a very brief visit, but we made the most of it, and I'm really glad I went.
About half-way between Albuquerque and Carlsbad lies Roswell. I always get a kick out of the Roswell UFO mystique. The downtown plays up that 1947 UFO crash to the hilt. This time through town I stopped for about five minutes and snapped a few alien shots. This first picture I took through the window of a shop. Hanging there is an old, water-stained copy of the Roswell newspaper, from the day of that famous and controversial event. I enlarged the date, from the banner of the paper, and inserted it at the bottom-right because that date -- July 8, 1947 -- is ALSO the day that Dan was born! Speculate all you want on any possible connection!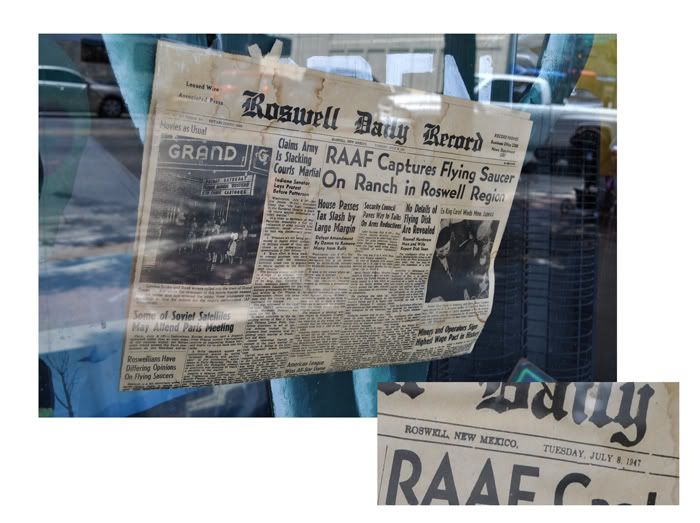 Here are just a few more shots -- just for the fun of it -- of a few of the aliens that seem to peek around every corner of downtown Roswell.