(See
RECIPE HERE
.)
The February 2011 Daring Bakers' challenge was hosted by Mallory from
A Sofa in the Kitchen
. She chose to challenge everyone to make Panna Cotta from a Giada De Laurentiis recipe and Nestle Florentine Cookies.
I'd never heard of Panna Cotta before, but now it's one of my favorite desserts, for several reasons. First of all, it's beautiful and looks like something you'd find at a fancy restaurant or in a cruise ship dining room! Secondly, it's easy. Really, folks, it's very easy and maybe even "no fail." And, thirdly, it's delicious. The main ingredient is cream. It is sweetened with honey, and thickened just right with gelatin. It tastes similar to creme brulee (my VERY favorite dessert), but has a lighter, fresher taste, I believe. On top I poured a thin layer of home made pomegranate jelly. Yum! Pretty, tasty and easy.
To go with the Panna Cotta, we were challenged to bake a batch of Florentine Cookies. Florentines are thin, caramelized oat cookies, drizzled with chocolate. Maybe you can see, in this picture, how lacy they turned out.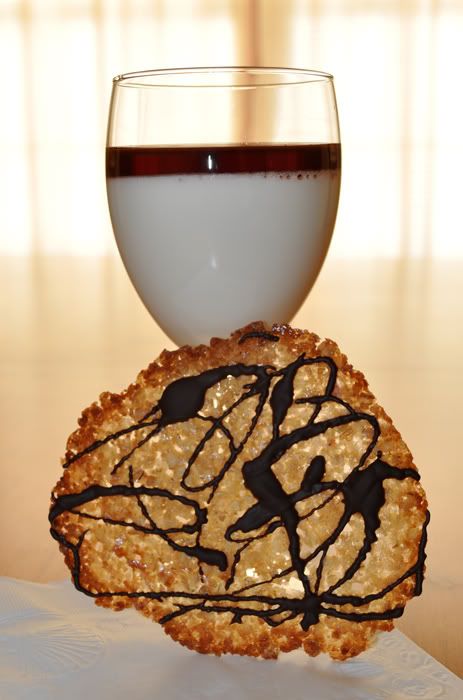 I'm still laughing at my first pan of Florentine Cookies, which didn't turn out looking like cookies at all. Instead they spread and ran all together, making one giant Florentine.
But I peeled the thin mass of cookie from the Silpat liner, and used a pair of clean scissors to cut it into randomly-shaped individual cookies, which, by the way, tasted just as good as the nicely-shaped ones that came out on pans #2 and #3.