I've never been a person who let myself get bored with life. In fact, I'm more likely to be faulted for going too many directions at once. I have to rein myself in, sometimes. I'm amazed at the diversity of talents and gifts that God gives to His people. Here are a half-dozen projects that are keeping me busy right now.
STAGING THE HOUSE TO SELL
Now that I've announced our retirement plans, I can share about our preparations. We want to put the house on the market this spring, which is not far off. Our house is, for the most part, in good shape, but some things need sprucing up ("staging" as they call it these days). I'm starting with closets and storage areas. They need to be clean, neat and pared down to just the essentials. Each week I'm setting myself a goal. The first week was our master clothes closet – and I successfully reorganized it. I even bought new hangers, so everything would be hanging on identical ones. It really made a difference! Last week I tackled two more areas – my kitchen pantry and the coat closet near the front door. This week I was hoping to organize the large bank of shelves in the laundry room, but I let a procedure with the oral surgeon, yesterday, ambush my plans. I'll be back to it next week.
Here's a the pantry after it was tidied up.
MY TODDLERS' BIBLE CLASS
My friend, Celia, and I share the responsibility of teaching the two- and three-year-olds on Sunday mornings. We've been working together for a long time, and it's been such a delight getting to know and love her through our combined efforts. Our little class has four regulars this year, as well as occasional visitors. Each of our "little peeps" is so unique and precious. I can't imagine NOT spending time with them each week, but it does require a lot of time to prepare the lessons.
This picture shows four little girls in Bible class -- our one little boy didn't want to get into Abraham's tent with all these girls. Don't blame him, do you? They are pretending to be the strangers who stayed to eat a meal with Abraham and Sarah. They had walked a long way and are washing their [cute little] feet. That's why all the shoes are coming off, and why there is a bowl in the foreground and a towel in one of the little one's hands.
BLOGGING – THIS BLOG AND
MY PHOTO BLOG
I know that no one is forcing me to update my blogs on a regular basis, but I really enjoy both the writing and the photography, so wouldn't want to give them up. I've fallen into a habit of taking Friday afternoons as "photo shoot day," trying to find themes for the following week's photo blog. That seems to be working for most weeks. If you're not checking my photo blog once a week or so, I hope you will.
ROBERT'S PICTURE BOOK
Believe it or not, I have Robert's book about his Great-grandpa Robert, nearly finished. I just need to go back and proof read the text and touch up some of the art work. I probably won't send it off to be printed until April, but the bulk of the work is done, and I'm happy with it. Once it is back from the printer, I'll try to post the pages somewhere to share with you who remember my dad. For now, here's a sneak peek of one of the 2-page layouts.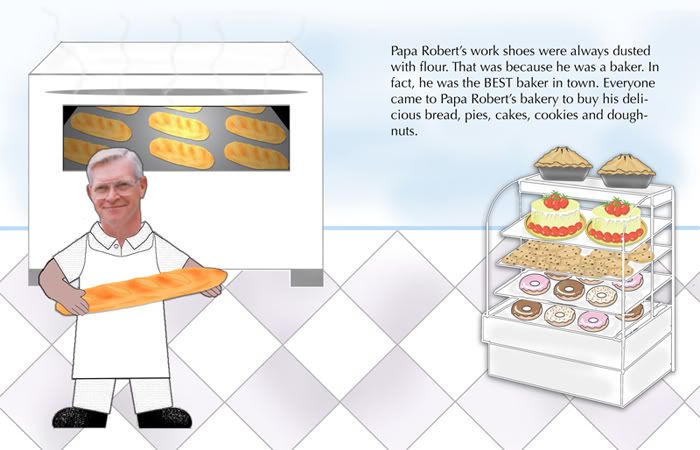 CLARA'S AND ROBERT'S 2010 SCRAPBOOKS
Each year I do a digitally-created scrapbook for Clara, mostly using pictures that Kelsey shares with me, and a few of my own. I send them to
viovio.com
to be printed. Last year I took on the creation of one for Robert, as well.
I picked out two spreads, one from Clara's 2010 book and one from Robert's, to display here.
From Clara's: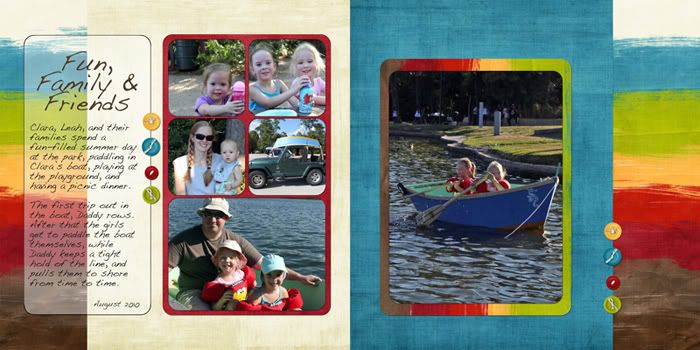 From Robert's: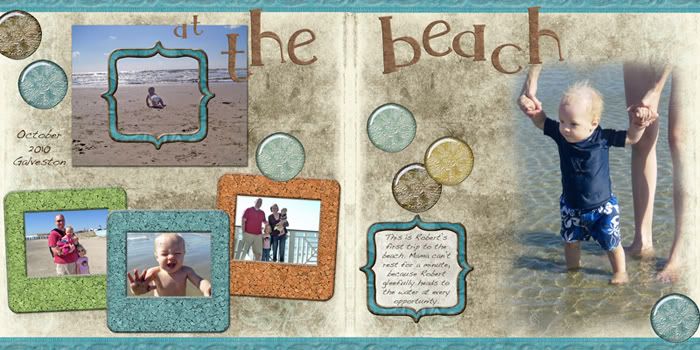 I've been surprised at how difficult it has been to complete two separate annual scrapbooks. I have Robert's 98% done, but Clara's is only at about 75%. And here we are, already, well into a new year, when I should be working on the 2011 books. I've toyed with the idea of doing a family scrapbook for them, instead of one for each of the children. That has some pros and some cons. What do you think? Really . . . I'd like your opinions.
DARING BAKERS
I love doing my once-a-month Daring Bakers challenge, but some months I find it difficult to squeeze in. Some of the challenges take more than one day to prepare, and then, as required by the Daring Baker rules, I must photograph and blog about the process on the 27th of each month. I just finished my February challenge and have the blog ready to automatically post early on Sunday morning. Don't miss it. It was really tasty. Wish I could post a picture for you here, but "rules are rules." Come back on Sunday.